We want our website to have traffic and generate income, but for this we first have to be found. Having a website only is not going to get your far. Therefore comes search engines optimization (SEO) into the game. To receive traffic, we need to appear on the rankings. Then we want to be at the top of the rankings, but this is not as simple as said. Here is your guide to SEO Success.
Guide to SEO Success Content
Part 1: SEO Elementaries
What is SEO?
SEO stands for "search engine optimization." It is the process of optimizing a website in order to improve its ranking on search engines like Google, Bing, or Yahoo. This is typically done by making changes to the website's design, content, and code in order to make it more attractive to search engines and to help them understand what the site is about. The goal of SEO is to increase the quantity and quality of traffic to a website from search engines.
Why is SEO important?
SEO is important for a variety of reasons. Here are a few:
Increased traffic:

A well-optimized website will rank higher in search engine results, which means it will be more visible to users. This can lead to an increase in the number of visitors to the website.

Cost-effectiveness:

SEO is a cost-effective way to drive targeted traffic to a website. Unlike paid advertising, you don't have to pay for every user who clicks on your website.

Credibility and Trust:

When a website appears at the top of search engine results, it sends a signal to users that the site is a credible and trustworthy source of information.

Better User Experience :

SEO techniques such as creating a user-friendly website, can provide the user with a better experience by making it easier for them to find the information they are looking for.

Competitive Edge :

SEO provides businesses with a competitive edge in their industry by allowing them to reach more potential customers.
In summary, SEO is important because it can help a website get more visibility and traffic, while also improving its credibility and user experience, and help in the long run to increase conversion rate, lead generation, brand awareness, and help getting a competitive edge.
What are the benefits of SEO?
There are several benefits of SEO, including:
Increased visibility:

SEO can help a website rank higher in search engine results, making it more visible to users. This increased visibility can lead to more traffic and potential customers for the business.

Cost-effectiveness:

SEO is a cost-effective way to drive targeted traffic to a website. Unlike paid advertising, you don't have to pay for every user who clicks on your website.

Better user experience:

SEO techniques, such as creating a user-friendly website, can provide users with a better experience by making it easier for them to find the information they are looking for.

Credibility and trust:

When a website appears at the top of search engine results, it sends a signal to users that the site is a credible and trustworthy source of information.

Increased brand awareness:

As a website ranks higher for relevant keywords, it can increase brand awareness and make it easier for people to find and remember the brand.

Long-term results :

SEO is a long-term strategy that keeps on benefiting your website as long as you keep your site updated and relevant.

Return on Investment:

The ROI on SEO can be very high, as it can lead to increased sales, leads and revenue for the business.

Access to valuable data:

Analytic tool like Google Analytics provide website owners with valuable data on their website's performance, user behavior, and more, helping them make better-informed decisions.
In summary, the benefits of SEO include increased visibility, cost-effectiveness, better user experience, credibility and trust, increased brand awareness, long-term results, and a high return on investment.
How do you do SEO?
There are many different ways to do SEO, but here are some of the most common and effective techniques:
Keyword research:

This involves identifying the keywords and phrases that people are using to search for products or services like yours. Once you know what keywords you want to target, you can optimize your website for those keywords.

On-page optimization:

This refers to the elements on your website that you can optimize for search engines. This includes things like the title tags, meta descriptions, headings, and content of your pages.

Content creation:

One of the most important parts of SEO is creating high-quality, relevant content that helps to attract and engage users. By creating helpful and informative content, you will make it more likely that people will find your website useful and want to link to it.

Link building:

One of the most important elements of SEO is link building. This refers to the process of getting other websites to link to your website. The more high-quality backlinks you have pointing to your website, the higher your website will rank.

Technical SEO:

This refers to the technical aspects of a website that can affect its ability to be indexed and crawled by search engines. Examples are website speed, mobile responsiveness, and indexing errors.

Measuring and Analyzing:

Use tools like Google Analytics to track the progress of your SEO efforts, measure the impact of your changes and make data-driven decisions.
SEO is an ongoing process that requires time and effort to achieve and maintain the desired results. And is constantly evolving with search engine algorithm updates and new best practices.
Part 2: Setting SEO Up for Success
Setting up for SEO success involves a combination of both on-page and off-page optimization. Here are a few steps you can take to set your website up for success:
Research keywords:

Use keyword research tools to identify the keywords and phrases that people are using to search for products or services like yours. Once you know what keywords you want to target, you can optimize your website for those keywords.

Optimize your website:

Make sure your website is properly optimized for search engines by including things like title tags, meta descriptions, headings, and content that is relevant to your target keywords.

Create high-quality content:

Create content that is high-quality, relevant, and helpful to your target audience. Make sure your website is frequently updated with new, fresh content.

Optimize your images and videos:

Optimize your images and videos by including descriptive file names and alt tags that include keywords. This can help your website appear in image and video search results.

Improve website architecture:

Improve your website's navigation and structure by making it easy for both users and search engines to understand the hierarchy of your pages.

Optimize for mobile:

Make sure your website is mobile-friendly, since more and more people are using mobile devices to browse the internet.

Use social media:

Utilize social media platforms to promote your website, and also link back to your website.

Develop Backlinks:

Build high-quality backlinks to your website through link building techniques, such as guest blogging, directories, and getting listed on relevant websites.
By implementing these steps, you will be setting your website up for success in the search engine results pages, which will increase your visibility, traffic, and potential customers. But it's important to keep in mind that SEO is an ongoing process, and you'll need to continue to optimize your website and monitor your progress to maintain and improve your rankings over time.
On the other hand, when the foundation is not layed correctly, it can bring in difficulties.
Order a good domain
Something short and noteworthy is best here. Try not to attempt to shoehorn watchwords. Your business name without dashes or exceptional characters is generally a decent wagered.
Bad domains
newyorkitalianrestaurant.com
---
bestseoexpertinhamburg.org
---
newyork-sushi-restaurant.com
Good domains
mariospizza.com
---
myquests.org
---
sushipalace.com
Top-level domain (TLD)
It belongs to the name, like the .com (dot com). The choice of TLD is irrelevant for SEO. Try using what is the most common. The .com is the most often used. Then the .org comes in second. If you are outside of the U.S., try using your country code such as co.uk for the United Kingdom, .de for Germany or .fr for France.
Avoid TLDs like .info or .biz which people tend to think of as spam, but it is not the end of the world if you have one. You can still build a legit business that ranks with them.
Use a CMS or website platform
CMSs or website platforms make it easier to use and handle your website. It would only make it difficult and costly if you have no idea how to change or optimize your content because you don't understand code.
Hosted platforms such as Wix, Squarespace, Shopify or Weebly. They have everything done for you. They host and give you design for your site. Adding and editing is then really easy without touching the code.
Self-hosted platforms such as WordPress, Joomla or Drupal. These also let you add and edit the content without code. The difference is that you have to host and install them on your own.
Use a good web hosting
These few point are mandatory.
Security:

Make sure you get a free SSL/TLS certificate. Or at least support for Let's Encrypt.

Server location:

It takes time for the data to travel from the server to the visitor. So it's best to choose a host with servers in the same country as most of your traffic. Or you will have to consider a CDN (content distribution network) which will save a copy of your site all over the world.

Support:

24/7 support would be ideal. There is nothing worse than having a problem and loosing income due to this.
Create a positive user experience
Google has their ranking criteria's, but having visitors wanting to come back to your site is more important, therefore the importance of giving a positive user experience (UI and UX).
Use of HTTPS:

Always encrypt your site with SSL/TLS. Customers wouldn't like it having their data stolen.

Attractive design:

Your website should be modern and eye catching. It should be nice looking at and reflect your brand.

Mobile friendliness:

User more and more browse with their mobile phones. Therefore it is critical to be mobile and desktop friendly, ideally also tablet friendly, as also some people have horizontal screens.

A readable font and adequate size:

Yes that awesome gothic style is cool, but not so easy going for a users eyes. Also too big sizes feel overwhelming. The ideal text size should be at 16px. That also looks more professional.

Intrusive ads and pop-up:

There is nothing more annoying than intrusive popups and ads. Ideally, don't have them at all. The compliance consent bar is already annoying enough. Google also does not like them.

Fast loading speed.

Have you once checked how many websites you visit per day? My desktop history said yesterday i loaded 1.276 pages. If i had to get coffee for each page loading time, i wouldn't be here anymore.
Page speed is also a ranking factor.
Plan a logical site structure
Looking at your URL, your menu or site map should make the hierarchy obvious to anyone. Therefore the importance of a logical structure for your internal linking. It is similar to your desktop folders.
Note: a mind map may be helpful. Try sketching it beforehand will make it easier for you later on.
A good internal linking help the search engine better find your pages. They cannot index what they cannot find.
PageRanking also depends on the internal linking. It is a kind of quality metric. Visitor prefer a tidy and clean house instead of a trash mountain.
It defines your content and what your site is about. The search engines are curious about what they see. If they don't understand, they don't like. Give them the desired candy.
Make your URL obvious
Which of the following permalinks do you understand the best?
Plain: myquests.org/?p=123
Day and name: myquests.org/2021/03/04/seo/
Month and name: myquests.org/03/04/seo/
Numeric: myquests.org/865/
Post name: myquests.org/services/seo
Well thanks for the obvious, always use post name. At least when starting with your new websites or at least as long as it is not too big of a burden to change it. In some cases a custom structure is advisable.
Install an SEO Plugin if not already included
I may understand you may want to cut cost, but these already come with a free package and are so well optimized that they will bring you so much value out it. Also without would be too much of a pain. Both Rank Math and Yoast are good options if you use WordPress.
Part 3: Getting listed on Google
Having a website a website is cool, but it is even cooler to be found. Being set up for SEO success will help Google crawl and index your pages. To help on with the process, just submit your site to Google will speed up the process even further. This is because it shows the search engine your website, even through you wouldn't be found anywhere else.
How to submit your website to google?
Start -> Do you have a site map? -> No? Create one. Yes? Submit it to the Google Search Console. Check out here for more details.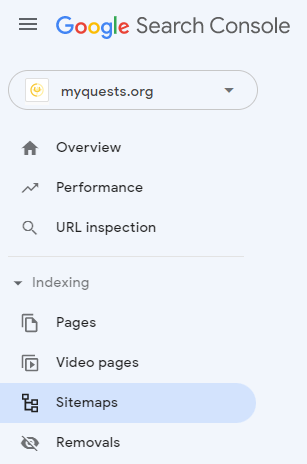 Find or create your site map
The sitemap displays your pages, post or even categories and tags from your website for the search engines to index. It most probably looks as the following:
yoursite.com/sitemap.xml
yoursite.com/sitemap_index.xml
If can't find it, you could not have one and need to create it and then submit it.
Part 4: Track & Measure SEO Performance
It's important to take a moment to understand how to track and evaluate SEO effectiveness before we get started on how to track and measure SEO. What we'll discuss here is a very high-level overview, and this is never simple.
Organic traffic
Let's begin with the most obvious. If organic traffic is increasing, your efforts are paying off. This may be tracked for free with GSC.
You may also use a SEO Tracing Tools, such as Ahrefs, Sistrix, SEMrush or Seobility.
Keyword rankings
Rankings improving for your goal keywords is another indication that you're on the correct track. In GSC, you may track average keyword rankings without charge. You need a rank tracking tool like Ahrefs' Rank Tracker if you want more precise tracking.
Note: Keyword rankings and organic traffic are "vanity metrics." It's not harmful to keep an eye on them, but frequently they have nothing to do with marketing or commercial objectives. It is far better to monitor indicators that actually affect the bottom line. Two of these are discussed below.
Visibility
Consider tracking one term, and all of the top Google positions are taken by web pages from your website. Your website's visibility is 100% because that term drives all relevant traffic to it.
Let's imagine your website only appears on the first page of Google, with all the other positions taken by rival websites. Your Visibility is less than 100% because some clicks move to other websites.
Another indication that your SEO strategy is doing well is if your visibility is growing.
Key ideas
The process of increasing a website's organic search traffic is known as SEO.
By appearing in organic search results, you achieve this.
Because without SEO, it's doubtful that you'll rank well.
Being highly ranked generates free, passive, and ongoing traffic.
Keyword research, content production, on-page SEO, link building, and technical SEO are all components of SEO.
When your website is correctly configured for SEO success, performing SEO is considerably simpler.
The majority of the time, Google will find and index your website on its own; but, you can occasionally hasten the process by providing your sitemap.