Thinking about using the Rank Math SEO plugin? This Rank Math Review will help you decide whether it's worth your money or if you should choose some other option.
Let's begin with a quick summary followed by a detailed review of the Rank Math SEO plugin.
Rank Math Review Summary
Numerous individuals perceive SEO as a complex and daunting task. But what if it was possible to enhance your WordPress site's SEO and generate SEO-optimized content without being a master of search engine optimization?
Introducing Rank Math – a plugin that handles the tough tasks for you.
Forget about the hassle of untangling the intricacies of SEO, when Rank Math SEO plugin can handle everything on your behalf!
Here's a little secret – It's the top choice available in the market.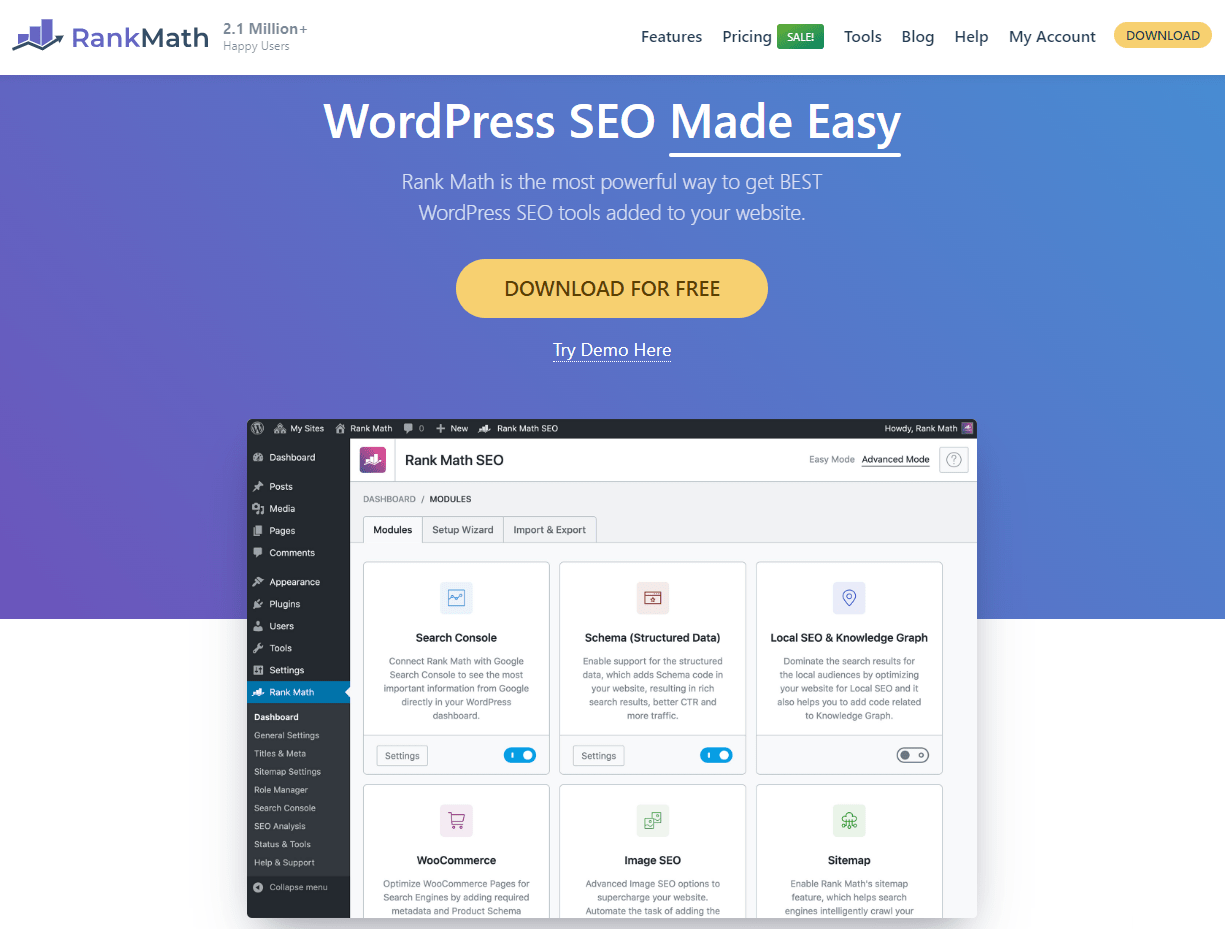 Overall Rating: 

FEATURES
COMPATIBILITY
RELIABILITY
EASE OF USE
SUPPORT
UPDATES
PERFORMANCE
PRICING
4.8/5 stars

5.0/5 stars
5.0/5 stars
5.0/5 stars
4.5/5 stars
4.5/5 stars
5.0/5 stars
5.0/5 stars
5.0/5 stars
Key Takeaways about the SEO Plugin (TL;DR)

Rank Math stands out as one of the topmost comprehensive SEO plugins for WordPress, currently boasting a global user base of over 1.7 million. It distinguishes itself from other plugins like Content AI and others with its unique offerings such as Google Trends Integration and Advanced Analytics.

No matter the feature you desire, Rank Math is well-equipped to meet your needs. Even the basic version of the plugin surpasses other WordPress SEO Plugins by providing features of a premium quality.

Rank Math enables you to carry out a variety of tasks, from simple functions like editing SEO titles and suggesting internal links, to more advanced operations like editing the .htaccess file, robots.txt, and conducting an SEO Audit, thanks to the Pro version of Rank Math.

It boasts an extensive suite of features expected in a WordPress SEO plugin, and then some, leaving no room for complaints regarding the lack of helpful tools. Additionally, Rank Math smoothly integrates with all types of WordPress websites, including those utilizing WooCommerce, Easy Digital Downloads, Elementor, Divi, bbPress, BuddyPress, and more.

Despite the overwhelming number of features in Rank Math, you aren't obliged to use them all. Feel free to activate the ones you need and disable the others. For many users, the free version of Rank Math suffices. However, the Pro version escalates the plugin's abilities to a higher level, and is highly recommended for those who can afford it.

Rank Math outperforms its competitors such as AIOSEO, Squirrly SEO, Yoast SEO, SEOPress, and more. Although these plugins have their merits, none come close to the offerings of Rank Math. The Pro version's pricing is competitive and justified, providing excellent value for money, although alternatives like SEOPress do present cheaper options.

In summary, Rank Math holds the crown as the best WordPress SEO plugin currently available and is a preferred choice over any other WordPress SEO Plugin.
WordPress SEO Plugin RankMath
RankMath / Rank Math is a popular WordPress plugin that helps users optimize their website for search engines. It is a free plugin that offers a wide range of features, including keyword optimization, XML sitemaps, rich snippets, and more.
Rank Math is known for its user-friendly interface and easy setup process. It also provides detailed analytics and reports to help users track their progress and make informed decisions about their SEO strategy.
Many website owners and developers appreciate Rank Math for its ability to help improve their website's search engine rankings and drive more traffic to their site. However, as with any SEO tool, it's important to use it in conjunction with other tactics such as creating quality content, building backlinks, and promoting your website on social media.
Overall, Rank Math is considered a useful tool for website owners and developers looking to improve their website's search engine visibility and drive more traffic to their site. However, like any tool, it will not be the magic solution for all website optimization needs and should be used in conjunction with other SEO tactics.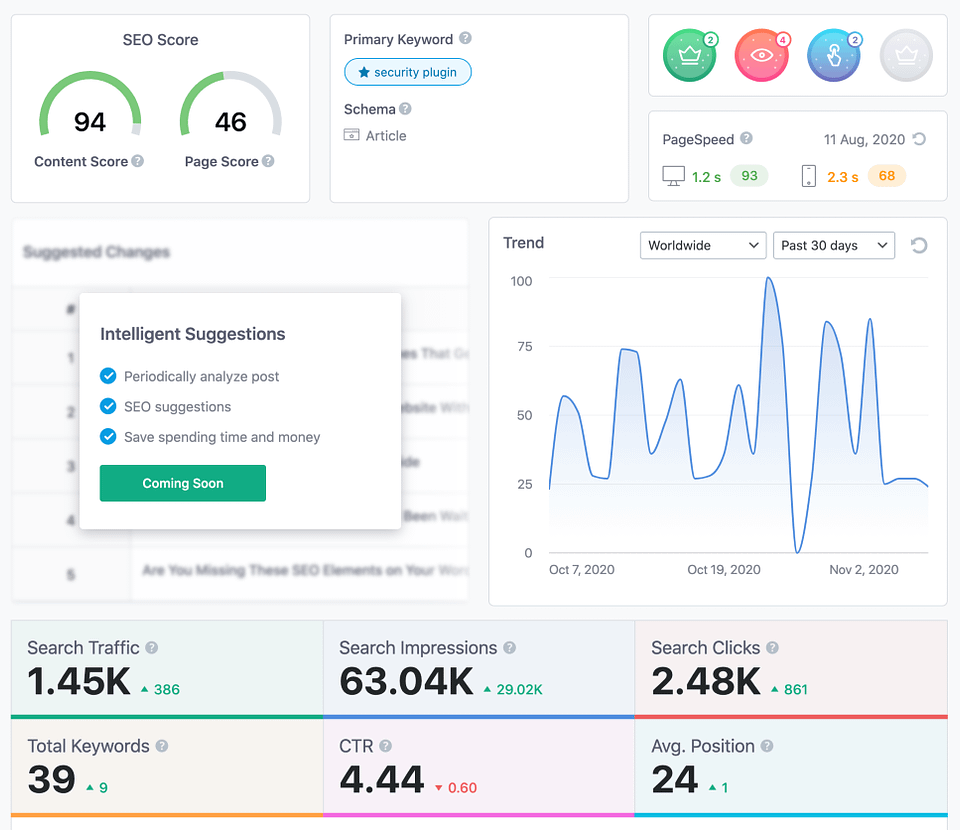 Additional information about RankMath
One of the key features of Rank Math is its ability to optimize website content for multiple keywords, which can help increase visibility for a wider range of search terms.

It provides a built-in SEO analysis tool that helps users identify and fix common on-page SEO issues, such as missing title tags, meta descriptions, and header tags.

The plugin is also optimized for schema markup, which can help improve the appearance of your website's search results and drive more clicks.

It also includes a 404 Monitor feature that helps you keep track of broken links and fix them quickly, this can help prevent users from leaving your site due to broken links and also improve the user experience.

Another feature is the built-in XML Sitemap generation, which can help search engines easily discover and index your site's content.

Rank Math is also known for its easy integration with Google Search Console, This allows you to track your website's performance in the search results and receive alerts when there are issues that need to be addressed.

Rank Math also includes a Redirection manager, which allows you to easily set up redirects for your site. This can help you to redirect visitors to the correct pages and avoid 404 errors, which can help you to maintain and improve your website's user experience.
How to RankMath – the best WordPress SEO Plugin
All in all, Rank Math is a powerful, feature-rich plugin that offers a wide range of tools and features to help you optimize your website for search engines. It is considered a great choice for website owners and developers who are looking for an easy-to-use, yet powerful SEO tool.
At MyQuests.org, we have a passionate use of RankMath.
It is for us the best SEO Plugin for WordPress!
FAQ – Frequently Asked Questions about RankMath the best SEO WordPress Plugin
What is RankMath?
RankMath is an SEO plugin for WordPress websites that provides a suite of tools to improve search engine visibility, including meta tag editing, XML sitemaps, rich snippets, and SEO analysis.
How does RankMath help improve SEO?
RankMath helps to improve SEO by offering tools for keyword optimization, content SEO analysis, and rich snippets. It also provides XML sitemaps, 404 monitoring, and redirects.
Is RankMath free?
RankMath offers both free and pro versions. The free version provides many essential SEO tools, while the pro version offers advanced features such as content AI, keyword rank tracking, and schema generation.
How does RankMath compare to other SEO plugins?
RankMath is often compared to Yoast SEO and All in One SEO. It stands out for its extensive feature set, ease of use, and the availability of advanced features in its free version.
Can RankMath help with local SEO?
Yes, RankMath includes features for local SEO, such as support for Local Business schema and the ability to integrate with Google Maps.
How does RankMath's content AI work?
Available in the pro version, RankMath's content AI uses artificial intelligence to analyze your content, suggesting improvements for SEO and readability.
RankMath: Powering WordPress SEO
RankMath is a comprehensive SEO plugin for WordPress that offers a myriad of tools to optimize websites for better visibility in search engines. It allows for detailed customization of meta tags, offers SEO analysis for content, and facilitates the creation of XML sitemaps – a crucial aspect for search engine crawling. Additionally, it offers rich snippets, enabling websites to stand out in search results, and provides 404 monitoring and redirects to manage potential SEO errors.
One notable advantage of RankMath is its versatility. It offers a free version that packs an impressive feature set, providing small businesses and individuals a robust SEO tool without a significant investment. For those seeking advanced capabilities, RankMath's pro version introduces unique features like content AI and keyword rank tracking. The content AI provides AI-powered insights into content optimization, making it a valuable tool in the creation of SEO-friendly content.
RankMath is renowned for its user-friendly interface. Despite the extensive features, navigating the plugin is intuitive, and the setup wizard makes it easy to configure for your website. Additionally, the plugin's emphasis on performance ensures that it doesn't slow down your site—a critical aspect considering site speed's role in SEO. Whether you're new to SEO or an experienced digital marketer, RankMath provides a scalable solution to drive your WordPress website's SEO success.