Olivier Jean-Daniel Jacob, born on 13.07.1989
is attending the following course at our institute from 31.01.2022 until 31.03.2023:
Further Training as IT Consultant and Online Marketing Consultant
Within the course, the participant has received practical and theoretical training for the purpose of further education.
Contents of the Futher Education:
Advanced / Specialized Knowledge IT Consulting and Online Marketing

Understanding Online Marketing – IT Consultant and Online Marketing Consultant:
Introduction to marketing, online marketing and branding; data protection and privacy.

Campaign Management – IT Consultant and Online Marketing Consultant:
Introduction to marketing campaigns; setting and measuring goals, KPIs, and budgets; defining communication tactics, channels, and audiences.

Website maintenance and optimization – IT consultant and online marketing consultant:
Graphic design; website optimization.

Measuring success – IT consultant and online marketing consultant:
Digital marketing analytics; web analytics, Google Analytics.
Organizational Marketing – IT Consultant and Online Marketing Consultant:
On-page and off-page SEO; email marketing; video marketing
Paid Marketing – IT Consultant and Online Marketing Consultant:
Affiliate marketing; SEA; Display advertising
Social Media Marketing – IT Consultant and Online Marketing Consultant:
Organic and paid SMM, Facebook Ads management.
Soft Skills – IT Consultant and Online Marketing Consultant
Mentoring – IT Consultant and Online Marketing Consultant
Business English language classes – Level: C1.4
To Digital Career Institute.
To the Online Marketing Course Overview from Digital Career Institute.
Certificates for Olivier Jacob from the Digital Career Institute.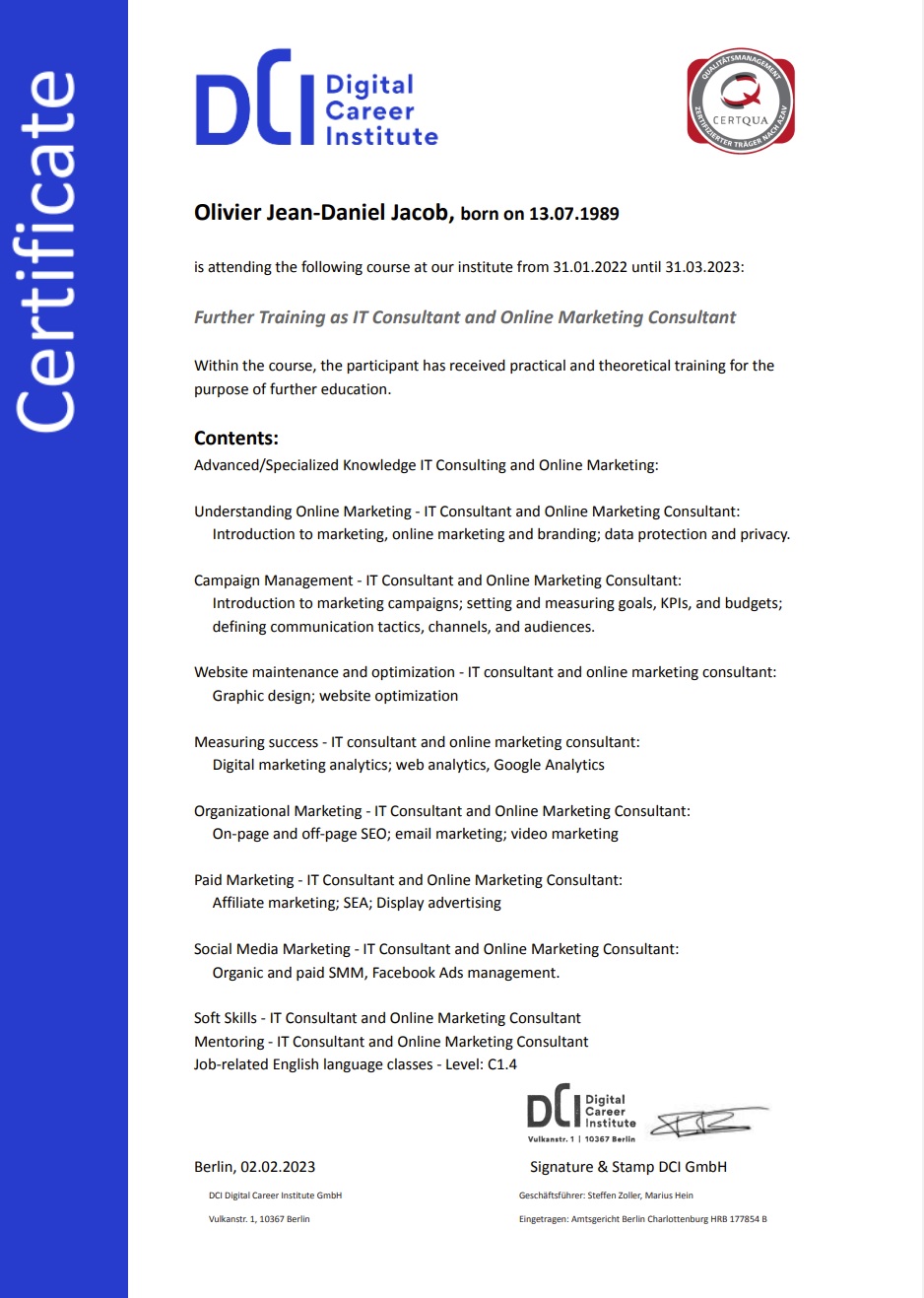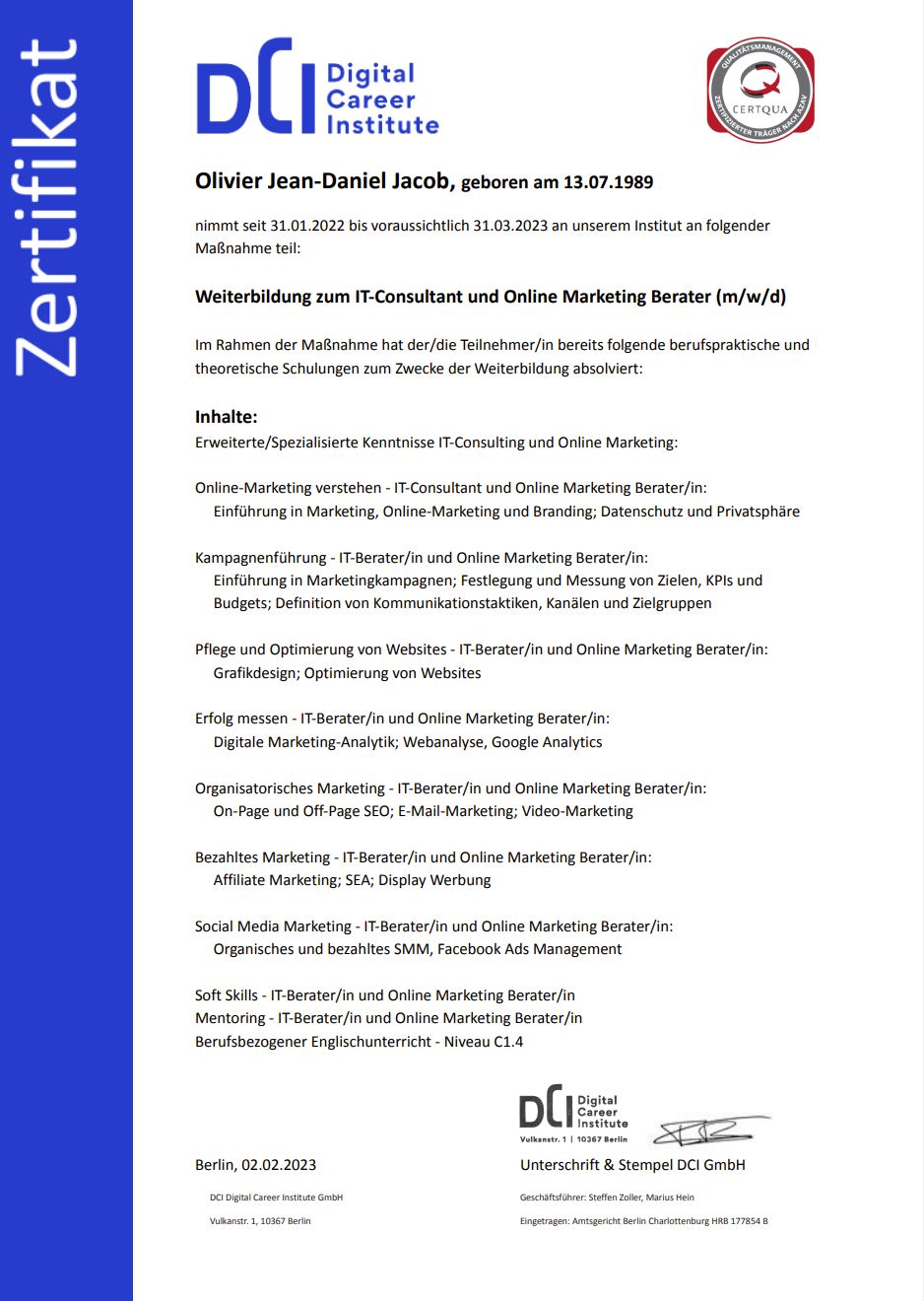 What is an IT-Consultant?
An IT consultant (Information Technology consultant) is a professional who provides advice and expertise to organizations on how to use technology to meet their business objectives. IT consultants assess the technology needs of a company, identify areas for improvement, and recommend solutions that can help streamline processes, increase efficiency, and reduce costs. They may also be involved in implementing new technology systems, providing training to employees, and ensuring that technology is being used effectively. IT consultants typically have a strong background in information technology and a deep understanding of various technologies and software applications. They work with organizations of all sizes and across a wide range of industries.
What is an Online Marketing Consultant?
An online marketing consultant is a professional who specializes in helping organizations to promote their products or services through digital channels. They advise clients on how to effectively use the internet and other digital technologies to reach their target audience and achieve their marketing goals. This may include developing and executing strategies for search engine optimization (SEO), social media marketing, email marketing, pay-per-click advertising, and other forms of online advertising.
Online marketing consultants work with organizations to identify their target audience, develop a marketing plan, and execute campaigns that will reach that audience and drive results. They stay up-to-date on the latest online marketing trends and best practices, and use data and analytics to measure the success of their campaigns and make informed decisions about future strategies.
The role of an online marketing consultant is to provide expert advice and guidance on all aspects of digital marketing, and to help organizations maximize their return on investment in this area.
About Olivier Jacob:
Olivier Jacob is a multi-cultural individual with a French father from Alsace and a British mother from London, born in Cincinnati, USA. He is a highly skilled professional with extensive experience in digital project management, digital consulting, and online marketing. He is an expert in Search Engine Optimization (SEO), as well as in Search Engine Advertising (SEA) and social media management. With his unique background and expertise, Olivier Jacob is well-equipped to handle complex digital projects and provide effective online marketing solutions for clients.
About DCI – Digital Career Institute:
Welcome to the world of digital transformation and career advancement! In this rapidly evolving technological landscape, the need for individuals skilled in digital technologies has never been greater. And that's where the Digital Career Institute (DCI) comes into play.
DCI, short for Digital Career Institute, is a leading institution dedicated to bridging the gap between job seekers and the digital job market. With a strong focus on providing hands-on training and upskilling opportunities, DCI equips individuals with the necessary skills and knowledge to thrive in today's digital economy.
At DCI, they understand that traditional education models often fail to keep up with the dynamic needs of the job market. To address this, DCI offers a wide range of comprehensive courses and programs specifically designed to meet the demands of the digital industry. Whether you're a fresh graduate looking to kickstart your career or a professional seeking to enhance your skill set, DCI provides tailored training to suit your needs.
One of the key aspects that sets DCI apart is its emphasis on practical learning. Rather than relying solely on theoretical lectures, DCI ensures that students gain hands-on experience by working on real-world projects. This practical approach not only allows students to apply their knowledge but also enables them to build a portfolio that showcases their skills to potential employers.
Another significant aspect of DCI is its commitment to inclusivity and accessibility. They believe that everyone, regardless of their background or circumstances, should have access to quality education and career opportunities. Through partnerships with various organizations and initiatives, DCI strives to create an inclusive learning environment and empower individuals from diverse backgrounds to thrive in the digital world.
Furthermore, DCI understands the importance of industry connections and networking in today's job market. They foster relationships with top companies and industry professionals, providing students with valuable networking opportunities, internships, and job placement assistance. By nurturing these connections, DCI ensures that its graduates have a competitive edge when entering the job market.
In conclusion, DCI stands as a beacon of digital education and career advancement, empowering individuals with the skills, knowledge, and opportunities they need to succeed in the digital era. Whether you're looking to launch a new career or enhance your existing one, DCI is here to guide you on your path to success in the exciting and ever-evolving world of digital technologies.